Direct response marketing is a kind of sales method meant to make an on-the-spot response and inspire a potential customer to take action by picking up the advertiser's offer. This is effective because, unlike other marketing techniques, one can see the instant impact and measurable results.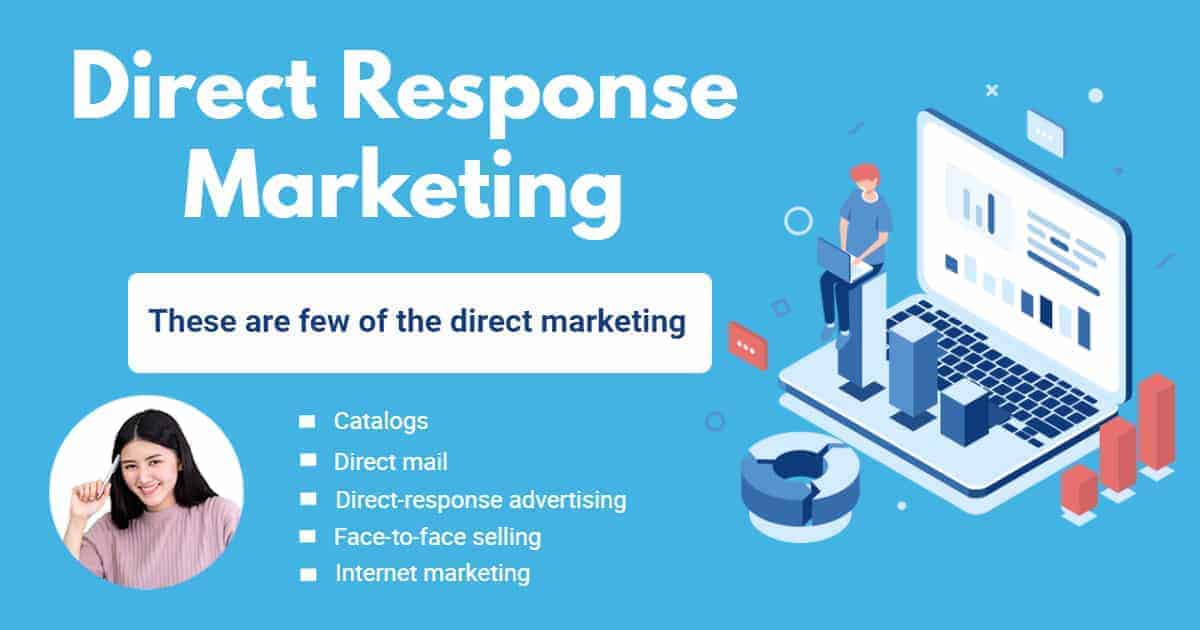 Frequently Asked Question
What is an example of direct marketing?
Few of the best examples of Direct Marketing are catalog distribution
coupons,
database marketing,
Emails,
flyers,
magazine adverts,
newspapers,
online adverts,
outdoor advertising,
phone calls,
phone text messaging,
postcards,
promotional letters,
websites.
What is direct response advertising with an example?
One of the best examples of Direct Response Marketing would be a
A post on Facebook if boosted, then it can be trackable, measurable, and capable of giving a clear CTA.
Few of the Other examples of direct response marketing are running search ads, creating a podcast, hosting webinars, and hosting a Twitter chat.
Is direct response marketing effective?
The main focus of many of the marketing especially after the lockdown is on digital media, as direct marketing is helping to grow much faster and better as it is driving online actions and new customers are getting engaged.
What are the types of direct marketing?
These are few of the direct marketing
Catalogs.
Direct mail.
Direct-response advertising.
Face-to-face selling.
Internet marketing.
Kiosk marketing.
Telemarketing.
Which is the feature of direct marketing?
In Direct Marketing, Marketing is done at instant and results would be effective and immediate. Here the order is placed and the target customers would buy the goods and services at an instant. These can be done through the Facebook Marketing system or ordering through the mail. In direct marketing, there won't be a middle man or an agent. This will save the middleman cost.
What Are Direct Marketing Channels?
To practice direct marketing, a series of marketing methods are been used. These methods and channels are called Direct marketing channels. In this channel, the company will allocate a dedicated person to do the marketing with the customer.
What is direct response ads?
The Direct response ads will boost up the Direct Response marketing. This is a specially designed marketing technique used to excite an instant response. Here the prospects are encouraged to take a specific action. These actions can be anything based on the services. Using the Direct response advertisements immediate action is triggered by potential customers. The main aim of this is to generate leads quickly.
Is direct marketing expensive?
There are many forms of direct marketing, like email and phone contact. You can contact a person for marketing through calls and messages. This is pretty effective and even cheaper.
What are the benefit of direct marketing?
Direct marketing allows you to promote your products and services directly to the buyers. The main benefit involved here is there is no middleman involved here. A great direct marketing campaign will build better relationships with the existing customers and will even help to grow new customers.
What are the methods of direct marketing?
The different methods of direct marketing include direct mailing, telemarketing, phone marketing, and email marketing.
Is direct marketing really the most effective form of marketing?
Yes
Conclusion:
So, Now you know about Direct Response Marketing. If you want to know more about this or want to implement it, feel free to contact our experts who already have helped many people in Direct Marketing.