Performance marketing refers to online advertising and marketing. Here, the marketing companies are paid by advertising companies when a task is accomplished. These tasks may include generating leads or sales or click.
Using the Performance Marketing both the marketing companies and the advertising companies get benefits. The Advertising company will get the lead or sales are done are the clicks are generated. On the other side, the marketing company will get paid when any such tasks get accomplished. This is a win-win opportunity for both the companies
This marketing technique has brought a lot of advantages over traditional advertising. This brought a lot a lot of advantages to the Advertising Companies.
| | |
| --- | --- |
| Performance Marketing | Traditional Marketing |
| Real time Measurement of ROI is Possible. | Real time Measurement of ROI is not Possible. |
| No Advance Money for Marketing | Have to Pay the Money before Marketing |
| Everything is Traceable, Can be tracked and Measurable | Cant Be Tracked or be Measured. |
| Paid when specific work is done Like Lead Generated or Sales are done. | Paid on basis of Number of Clicks. |
From the Small Scale to Fortune 500 companies, Everyone is doing the same.
To make this Marketing much better, Different kinds of techniques are been applied. Advertisements are been done on mobile apps, social media, and niche marketing.
Marketable content and customer attractive contents are been written to attract customers.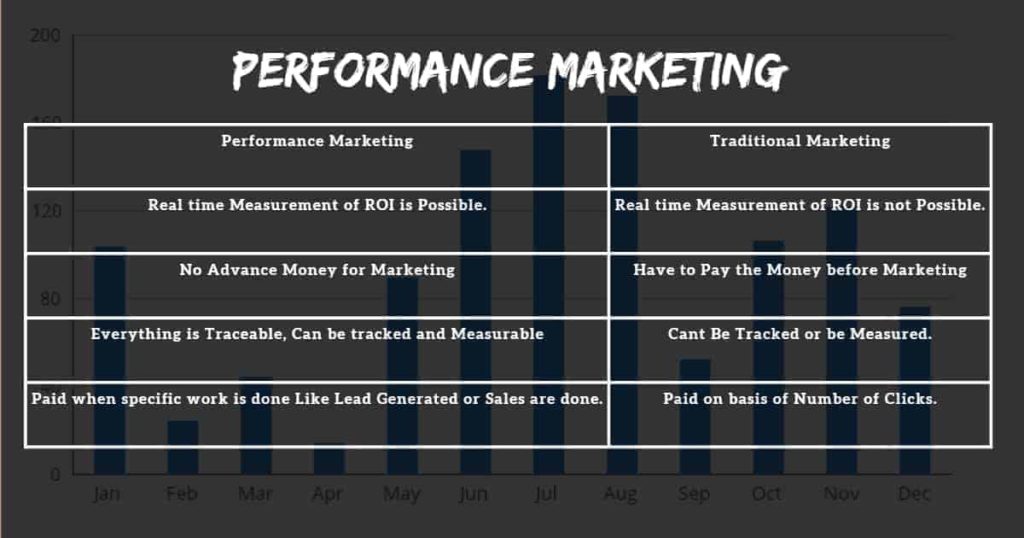 Steps to Success
Step 1: Define the objective
Step 2: Decide the right affiliate network
Step 3: Plan as per your demographic, budget, KPIs, and geolocation.
Step 4: Monitor the campaign(s).
Step 5: optimizing every campaign source
Frequently Asked Questions
How does performance marketing work?
Here the Advertiser companies pay when certain work is done. Unlike traditional marketing when the advertisers used to pay for specific clicks.
How do you measure marketing performance?
Few ways through which one can do the marketing is
Return on Investment (ROI)
Conversion Rate
Customer Lifetime Value
Cost per Win
Incremental Sales
Cost per Lead
Purchase Funnel
What is the difference between Brand Marketing and performance marketing?
Brand marketing is done when you have a brand and want to promote your brand among the people and want your brand to gain more exposure. Performance Marketing is done when you want to grow your company.
What is the difference between Digital Marketing and performance marketing?
The difference between performance and digital marketing is
In Performance marketing, One concentrates on results. Here one tries to make the real business. These can be conversions, generating leads, and sales.
In Digital Marketing On focus on branding and awareness on digital platforms and across devices.
This is a part of Digital Marketing. If you are a good Digital Marketer then you will focus on generating leads and even on branding.
Conclusion:
If you want to know more about Performance Marketing or If you are an advertising company and want to advertise your product and services or want to generate more leads or want to do something more then you can feel to contact us. Our experts can help you with it.