Digital Marketing Tools
Digital Marketing tools will make your life easier. You might have heard about that. But there are a lot of tools in the market. Researching, and finding out new tools will take a lot of time.
So what to do? How to save time by not wasting time on figuring out what tools one should be using? What will be best for you?
In this article, We shall learn about Digital Marketing tools that you should be using and why will it be the best for you.
So here is the list of tools, that you must be using if you want to sustain in the world of Digital Marketing.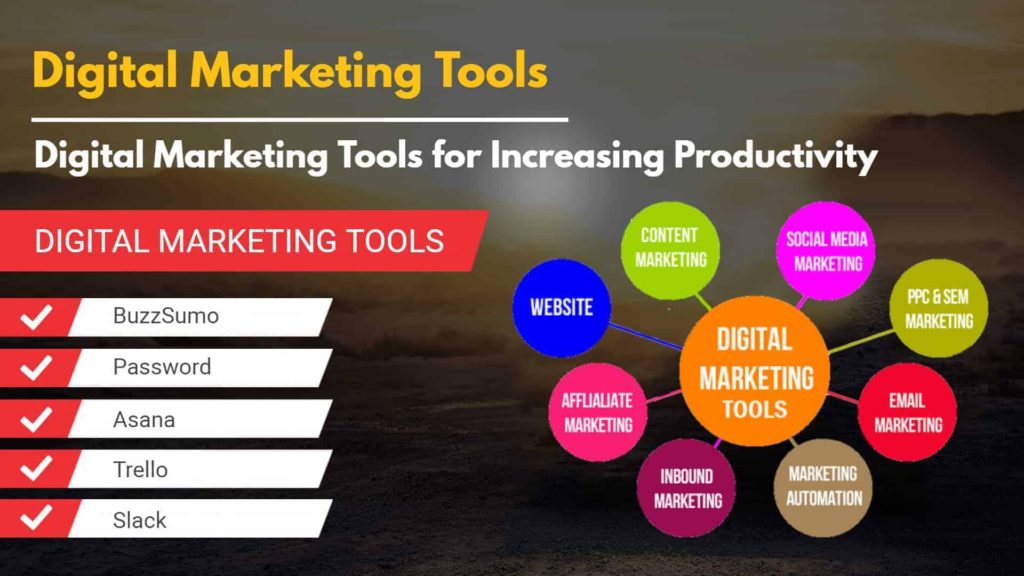 Digital Marketing Tools for Researching
There are a lot of tools that you should be using for Researching. You can research the keywords on which you will be writing the content, or the backlinks, and many other things. Here is the list
Ahrefs
Ahrefs is a popular tool for backlinks and SEO analysis. With this tool, you can check the performance of your website, check the keywords which are ranking, compare your competitors, get their backlinks, do the keyword research, and other stuff.
MozBar
MozBar is a chrome extension that will give you instant metrics of the website like the page authority and domain authority and spam details while viewing the website or SERP.
Digital Marketing Tools for Marketing
There are a lot of tools that should be used for Marketing. This might include sending emails, Finding New Customers, Promoting Products, and many more. Here is the list
Gmail
Gmail is a tool by Google by which you can be in touch with the people. You can share mails. With the help of Google Meet, you can directly schedule meetings. You can track the emails. You can do a lot of things over there.
Outlook
Outlook provides free email Access and the calendar to schedule things as per your needs. You can Make use of Word, Excel, and PowerPoint.
HubSpot
It is a platform for marketers. Here you can manage your CRM easily. HubSpot provides tools for customer support which will help you to make your work run smoother
MailChimp
MailChimp is an email marketing service and marketing automation platform that can be used by small businesses, to grow your business.
Digital Marketing Tools for Social Media
There are a lot of tools that should be used for Social Media. Connecting People on Social Media, Sharing Posts, Promoting Brands, and many more. Here is the list
Buffer
Buffer is a social media management platform used by millions of businesses, individuals, brands, and agencies. Using Buffer you can Schedule a post in Instagram, Facebook, and many other Social Media Platforms.
Hootsuite
Hootsuite is a social media management platform with a dashboard that has an Advanced content calendar. Hootsuite provides Services like Message Scheduling, Custom Reports.
Followerwonk
Followerwonk provides deep insight to make impressions on Twitter. It provides analytics that will help the users to understand the present scenario and will help the users to take the decisions accordingly and explore and grow the users' social graph.
MeetEdgar
With MeetEdgar tool, Schedule, share, and recycle posts on different social media and save tons of hours.
We have written an article on Social Media Management and Scheduling tools. You can read it to know about how to Schedule a post on Social Media and Keep your Customers Engaged.
Digital Marketing Tools for Analytics
There are a lot of tools that should be used for Analytics. Using these Analytics tools see how your campaigns that are useful for you and to people and helps to drive real results and many more. Here is the list
Google Analytics
Google Analytics is the tool using which you measure your advertising Return on Investment. It helps to track the traffic reports and other details related to your websites like the number of users visiting the website and other things.
Facebook Audience Insights
Using Facebook Audience Insights tool you cant find the insights about the People who can help you to grow up your Business. with this tool, you can know more about your target audience.
Digital Marketing Tools for Increasing Productivity
BuzzSumo
If you want to figure out which content is popular on a website then BuzzSumo would be the best tool. It is a content marketing tool.
1Password
It is really difficult to keep remembering the passwords, while you keep on registering your sites in the backlinks. 1Password is a tool which will help you to store the password safe.
Asana
With Asana, you can organize your team and make your teamwork in a productive way even if everyone is working remotely on different things.
Trello
Trello is an Agile tool which will help you to Organize Plans, Projects. You can create tasks, assign the task to someone, and make the work done on time.
Slack
Slack is a tool and a platform where you can stay connected and updated with your team members by can ask questions and sharing updates.
Grammarly
Grammarly is a tool that you can use to write content online. You can save your content and edit your content. The premium feature of this tool will provide you a feature to check the plagiarism.
Photoshop
Using Photoshop, you can create stunning images so as to attract your audience and keep them engaged.
Canva
Canva provides free templates to create images for websites and social media. You can even create videos and gif images from here.
Premiere Pro
Premiere Pro is a video editing tool used for the web. With this tool, you can create stunning videos which you can post in social media and website.
Digital Marketing Tools for Website
Optimizely
Using Optimizely, you can do multivariate testing and A/B testing. With this tool, you can do website personalization.
WooRank
WooRank is a tool that you can use to audit your website and based upon the results and instructions you can optimize your website.
Digital Marketing Tools for Improving SEO
Digibloq SEO Analyzer
Digibloq SEO Analyzer is a free tool that will help you to search for flaws in your SEO by doing the SEO Analysis.
Yoast SEO
Yoast SEO is a WordPress plugin that helps in optimizing your content of the website. It helps with On-Page SEO.
SEO Workers Analysis Tool
SEO Workers Analysis Tool is a tool using which you monitor and measure the ranking of your web pages.
Screaming Frog SEO
Screaming Frog SEO is a tool (crawler) that Crawls the websites' links, CSS script, images, and so as to check your SEO Performance.
Google Keyword Planner
Google Keyword Planner is a tool using which, for your Search campaigns, you can find new keyword ideas.
Google Trends
Using Google Trends, Find the latest trends that are happening worldwide according to your niche and make use of that as an opportunity to get more audience.
Ubersuggest
If you are planning for content marketing strategy and you need keywords for it then Ubersuggest is the right tool for you.
Serpstat
Serpstat is the most commonly used tool for Keyword Research, Site Audit, Competitor Analysis, Backlinks Analysis, Rank Tracking, and many more.
SimilarWeb
SimilarWeb is a chrome extension that will analyze the website and search for similar sites.
Small SEO Tools
Small SEO Tools is a website that has tools related to SEO like plagiarism checker, Article Rewriter, Website SEO score checker, Domain Authority Checker, Keywords Suggestion Tool, Keyword Position.
Digital Marketing Tools for Customer Engagement
KISSmetrics
KISSmetrics is a customer Engagement Automation tool which Analyzes, segment, and engage everything in one place.
Conclusion
Now you know about the most commonly used Digital Marketing Tools in 2020. Using these tools you can boost up your business. But do you exactly know how? By knowing about the tools and its usage one cant just generate leads and turn them into customers. There are a lot of things that should be done to beat the existing Digital Marketing Business and move ahead. If you are not sure how to proceed then we can help you with that. Feel free to contact our experts.