Are you a newbie and amateur into the PPC world? Then Google Adword Express is the right PPC tool for you if you want to advertise on Google and your website. Unlike Adwords, you don't have to be a pro in the maximize your results.
Google Adwords Express is the faster version of AdWords, wherewith limited options, and with a faster approach, one can easily set up AdWords account by setting up your budget. Rest all things will be taken care of by the Gooogle itself. You don't have to worry about researching, monitoring or tweaking.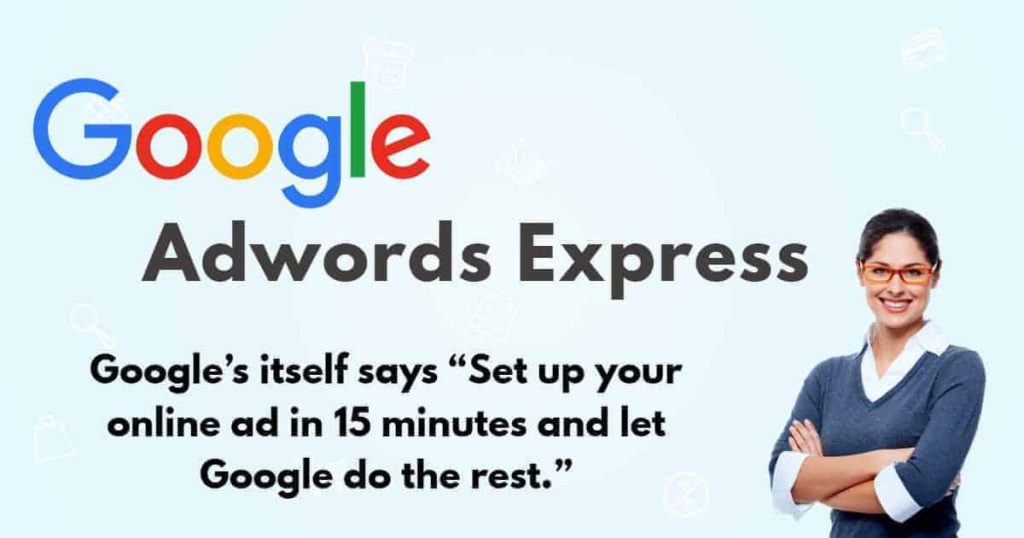 Why Choose Adwords Express?
Google's itself says "Set up your online ad in 15 minutes and let Google do the rest."
Adword Express is beneficial for people who don't have much knowledge of AdWords or Keyword Research or PPC or SEO. This is meant for those who just want to run the ads without bothering about Technical and Non Technical kinds of stuff of Advertising and Digital Marketing.
Using Google Adwords Express, you can:
Save time.
Don't have to know Technical Stuffs
Run Ads without even having a website
Show Ads only on the Search Engine Results Page (SERP).
The best feature of AdWords Express is it shows the reviews from your Google My Business in your ads. If your Business is having reviews on both Google My Business and Google Maps, it would be a double advantage. It will take the reviews from both and will show in the ads.
Google automatically runs several varieties of your ads that are typically specifically targeted to your Business and Area. This will give you a better idea of what keywords are being searched in your area related to your Business.
Here, there is only one Ad per campaign, Unlike the Google Adwords, so that the business owners don't have to worry much about the work to be done over here. The best part is the business owners can create multiple campaigns targeting different keywords per location.
Advantages of AdWords Express:
Quick to set up – To set up the account and get a campaign, it will take 15 minutes. Make sure you have set up the Google My Business before setting up the AdWords Express Account.
No keyword research – AdWords Express will take care of the Keyword Research. You don't have to invest your time and money on this.
No prior SEO or PPC knowledge is needed – Even without much knowledge on PPC or SEO; you can run this.
Free to set up – Setup is completely free of charge. You need to have Google My Business Account Set up first.
AdWords Express Benefits
Some of the advantages of advertising with AdWords Express are:
Create an online ad faster than AdWords
Attract more local customers to your Business.
Pay only when people click on your ad.
In your Google Places dashboard, Measure the effectiveness of your ads
Easy Integration of Google AdWords in the Google Account.
AdWords Express already has the location of your Business on the Ads.
Easily Attract the local target audience.
Google itself says that it is one of the fastest ways to get advertising on the Google Search Engine. It will take just 15 minutes for the complete setup, including the setting up of budgets.
Customers or clients looking for local services or products on Google will find your ad. When customers click on the ads, they will be redirected to Google Places business listing where you have listed your products and services. You can advertise your Business on Google Maps and attract more customers to your Google My Business or your Website.
Google AdWords Express acts similar to Google AdWords. In both of these, you can determine your search keywords and can set your monthly advertising budget. Google will present your ad based upon the search patterns by that local customer. You have to pay only if someone clicks on the ads.
If you value time and need to run your campaigns with limited resources, AdWords Express will be the best option. This will be the best option if you want to run your ads without the help of the consultant who can help you with your keyword research. With AdWords Express, you can set a budget, and according to your business category, Google will come up with a list of keywords so that it will be useful for your ads that will be shown up on Google Search Engine Result Pages or your Website.
Setting Up Google AdWords Express
Before you Setup your Google AdWords Express, Make sure that your Business is approved by Google (Google Maps). Your Google My Business is setup.
Creating Your AdWords Express Account
Go to Google Adwords Express
Select the location for which you would like to create the ad (for businesses with multiple locations). Click Continue.
Select an ad category to create your ad.
You can direct clicks either to your Google My Business Page where your Business is listed or your website (If you have one)
Choose the radius where your ad will be displayed and your average daily budget. Click Continue.
Enter your billing information and click Continue.
Finally, Choose your payment method and click Continue.
You will now be redirected to your AdWords Express (As your Account is Created) dashboard that shows you the complete demographics. It will show how many people have clicked on your ad, how many people have seen your ad and other Information.
AdWord Express Features
Local Business:  Ads will show up for any search within 15 miles (25km) of your Business. This is called proximity targeting. 
Google Places: There is no need for a website to set up your ads. You just need to have a Google Maps account and Google My Business Account.
Automatic Keywords: Google automatically assigns the top-performing keywords associated with your category for your Business Ad. 
Multiple Ads: You can have multiple ads for more than one category and location.
Search PPC: Like regular AdWords, your ad will show up in Google Search Results
Map Search: Your ads will show up Google Maps so that the potential customers can easily find your Business.
Mobile Search: Your Ads will be shown to the people searching from PC, tablets, and Mobile Phones. There are no restrictions on that.
Full Ads: Like regular ads, you will have an ad headline, contact information like your telephone number and address, a link to your Google My Business or your website and, a blue map pin on Google Maps.
Set Budget: You can set your own budget or set the budget recommended by Google.
Four Star Ratings: The Rating that is present on your Google Maps and Google My Business will be shown in your ads.
Coupons: You can Promote your Coupons on your Ads.
Stats: You don't have to worry about your Statistics. You have to get a dashboard once you create an AdWord Express Account. You can Monitor everything over there.
Cons of AdWords Express:
No control over ads or how your budget is spent
Weak reporting
Not great for big budgets
No Keyword Research
No Strategy Preparation
No SEO Research
No PPC Research
We have written a article for you on how to advertise on google if you are completely new to google advertising.
Conclusion:
If you are a newbie and are not aware of the world of SEO and PPC and want to advertise on Google, then Google AdWords Express is best for you, but this is not the right choice as you already read about the corns of it.
Google Adwords is the best choice if you want to do keyword research and reach the exact target audience. If you are not sure how to do that, then we can help you with that. Feel Free to contact our experts who will ready to help you with keyword research and setting up your AdWords account