Pinterest Ads! Yes, you read the right thing. Just like ads in any other social media and Google ads, This platform too provide an option to do the advertisements.
If you have not heard about Pinterest or have never used Pinterest then you are missing a big platform. Just like Instagram, Pinterest is also a photosharing site where you can post your photos and videos of your choice.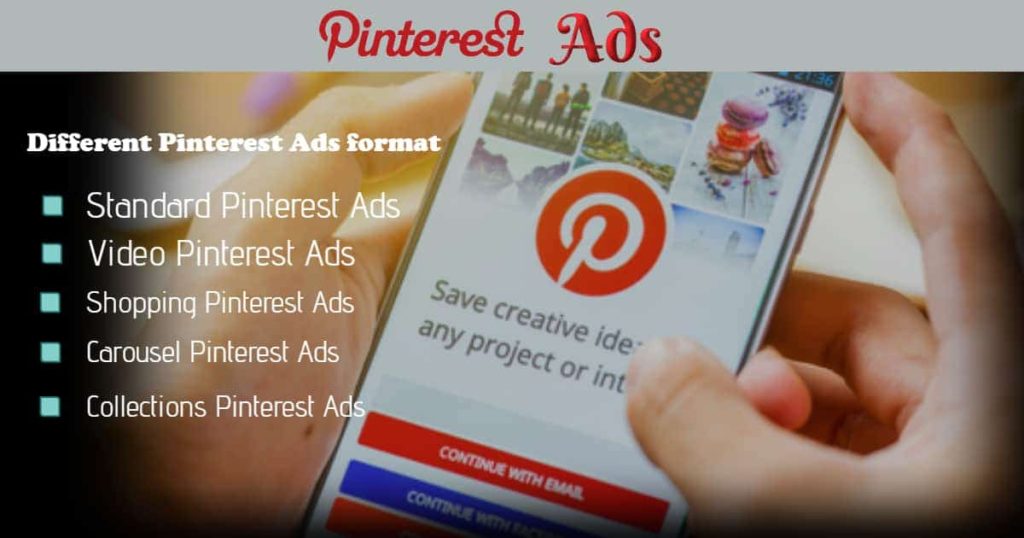 It is one of the widely used platforms especially for photo sharing with almost billions of users around the world.
So, You have a business and want to promote it and want the users to know about it, you want to sell your product and want to expand your reach? Then what could be the best place apart from Pinterest?
Make use of Pinterest Ads to expand the reach of your products to the people, using the advertisements reach to the people are looking for new brands and products. Convert your pins into ads so that you can spread your range and drive more traffic to your products and exponentially increase your traffic.
So, in this article, we shall talk all about Pinterest ads and will speak about how you can make use of the advertisements to drive more traffic and take the benefits of it.
Different Pinterest Ads format
Standard Pinterest Ads
Using the Standard Ad format, Make use of a Simple Image of yours which you want to use to showcase for the ad. A Single Square or Vertical Image in the pin can be converted to an ad to drive more traffic. You can write content in that pin so as to describe more details about the ad to people.
Video Pinterest Ads
You can make use of stunning, attention seeker and customer engaging promotional video as your Pinterest Ad. This video should be related to your business or brand so that it would be reaching the right audience.
Shopping Pinterest Ads
For those who love shopping, Convert all your Pins to advertisements so that the customers can shop in Pinterest itself. This is one of the best features of Pinterest Ads.
Carousel Pinterest Ads
Add Multiple Images of your brand at a single place and start promoting it. Let people swipe the images and see whatever they like.
Collections Pinterest Ads
Make use of Images, Videos, and everything that you have in a collection so that the people would easily know what you want to promote. This kind of Pinterest Ad format will boost up the engagement.
How to Create Pinterest Ads
Creating an Ad became simple and flexible. One doesn't have to beat his head to create an ad. Just follow a few simple steps to make the ads.
Create your Pinterest Business Account.
Make an account in Pinterest Ads. (If you already have an account then login into it).
Choose the country you belong to. (Unfortunately few of the countries don't have this access yet.)
Select the payment type. (You cant change this in the future. So make sure that you choose the right payment option).
Follow the next few steps and complete the registration.
This registration process is simple and can be done in seconds.
Advantages of Using Pinterest Ads
Using the Ads Manager, you can easily create, build, and edit campaigns, create ad groups, and a lot of other stuff.
You can decide your own budget and spend as much as you want as per your needs.
You have got the freedom to turn on and off your ads as per your will.
You can select your target audience and pay only if they perform some actions like views, clickthroughs, and engagements.
With the help of targeted tools, you can reach out to your targeted audience.
Silent Features of Pinterest Ads
Pinterest picks the target audience based on details from your Pin.
You can choose the right audience using information like location, age, gender, and language.
According to the interests of the people, the ads will be displayed to them in their home feeds.
Find the people who search for particular keywords. Your ads will be displayed to them in the search results.
Pinterest provides the feature to upload the customers' list who are already engaged in your website or Pinterest Store. Reaching customers over here makes it easy.
By running the Pinterest Ads you have got the power to run the advertisements as per your budget and as per your time and you can choose your target audience.
Frequently Asked Questions
Do Pinterest Ads Work 2020?
Yes, Pinterest ads still work in 2020, but unfortunately, it doesn't work in every part of the globe. Currently, this feature is available in only a few countries.
Why is Pinterest ad rejected?
Pinterest ads get rejected because most of the people do not follow the proper guidelines.
Are Pinterest ads worth it?
Depending upon the kind of product you are advertising, kind of target audience, keywords that are been used, and the budget, one can decide if the ads with or not.
Is advertising on Pinterest free?
No, Advertising on Pinterest is not free, Pinterest charges for every a click. You can set your own budget for that too as per your convenience.
Is Pinterest Ads Available in India?
Unfortunately, the Pinterest ad is not available in India currently. but hopefully, it will be available soon.
Conclusion:
In today's topic, we have discussed everything about how Pinterest ads work. Starting from how to create an ad to how to take the benefits of ads. But is that enough? Do you know how to find the target audience? how to find the relevant keywords for your business for Pinterest?
How to take advantage of the outcomes of running ads? To answer all your questions and help you, we have a team of experts who can help you with that. Feel free to connect with us if in case you need any kind of help.